The US president Donald Trump met the Prime Minister of Canada Justin Trudeau on Monday 13th February.
It's all in the handshake. Donald Trump and Justin Trudeau have shared a manly one during their meeting this Monday at the White House. The two leaders held a discussion on the advancement of women in business. The president of the United States of America and Canada's Prime Minister are polar opposites on the topic. Justin Trudeau is a "Resolutely pro-choice", and a self-reported feminist, whereas Donald Trump drags his boor-man reputation towards women.
Nonetheless, the encounter unfolded well. Four seconds of powerful handshake, and a high level of dominance displayed on both sides. Actually, the Canadian former high school teacher appeared a bit impatient, but quite confident and even found a way to avoid the famous Donald Trump's "grip and yank" by putting a strong hand on Trump's shoulder. And that's not just a detail, especially for Twitter :
Still, this crucial first contact between these two much different characters on every level marked the beginning of a well-balanced meeting. None of the leaders conceded any part of land. On immigration, for instance.
Last but not least, the striking image that will stay in people's minds is this council with women entrepreneurs around the ovale table.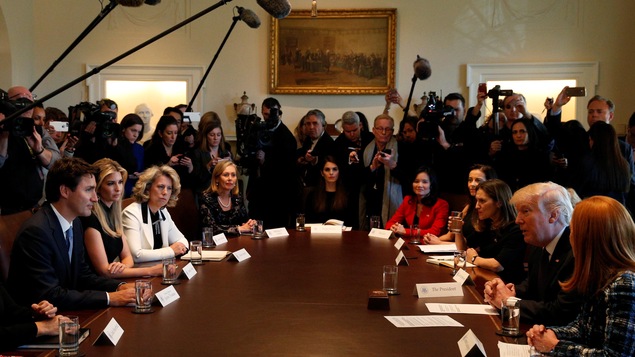 Tom LANSARD, IEJ3D